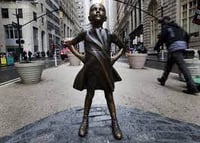 "Buckle up, and know it's going to be a tremendous amount of work, but embrace it."
~Tory Burch, Fashion Designer
---
It's no surprise that female speakers are some of the most sought-after keynote speakers for corporate meetings and events. The reason? Perspective!
A league of fierce "fighters" (some may even say superheroes) relentlessly greased the diversity & inclusion wheels for decades to elevate equality and advance roles in business. Today, we are seeing more and more women leaders take a seat at the table – imparting diversity and inclusion in corporate roles like never before, from athletes to CEOs, authors, scientists, financial experts, entrepreneurs, we could go on and on...
Exceptional leaders know that women help create a competitive advantage, provide deep insight, fuel inspiration, have unique soft skills, and have the capacity to connect with emotions, all of which are required to transform organizations, taking them from good to great.
We are so lucky to work with these top female speakers and industry leaders who have their fingers on the pulse of the fast-paced, business challenges companies face today. This prestigious and diverse list of speakers and entrepreneurs leaves audiences reinvigorated. They lend their fresh perspectives on women's issues, leadership, peak performance, finances, politics, overcoming adversity, mental health, and other hot-button issues companies and individuals face every day.
If you are looking to inspire your team, motivate your company, or create a culture of inclusion, meet some of the best women keynoters in the biz who can help you level up your organization.
If you're new to working with a speakers bureau, we invite you to DOWNLOAD OUR INFOGRAPHIC that highlights the benefits.