As a 100K miles/year frequent flier, like many of us in the Meeting Industry, in order to pass the time, I often find myself wondering why people do certain things on an airplane. For me, people watching makes a flight go quicker & often makes it more enjoyable than watching a movie starring Ryan Gosling (sorry ladies)!
Some of the many thoughts I wonder about my fellow passengers...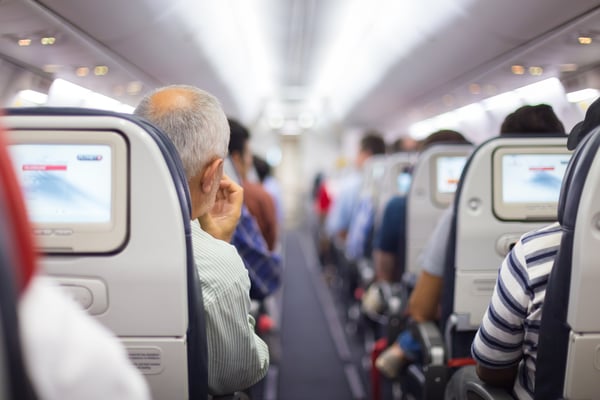 Is your neck pillow so heavy you have to wear it as you board the plane? Are you unable to carry it or at least attach it to your carry-on bag?
At this point, is there really a person who does not know how to fasten a seat belt?
Don't try to fool me, Mr. "I'll play dumb" passenger who attempts to board a Southwest flight in the A Group when they are holding a C group boarding pass! "Oh, I'm sorry, I didn't know…but can I just board anyway?" LOVE when the Southwest gate agent rebuffs their futile attempt. "No A-Group for You!!"
Can you REALLY not see the Vegas Neon-Light sign showing the bathroom is occupied? Return to your seat in shame and wait your turn like the rest of us!
Oh, wait a second (buddy sitting next to me), you're not really going to let your foot "accidentally" wander into my designated area, are you? The silver dividers are there for a reason pal. Get to know them, love them & most importantly, abide by them!
Speaking of dividers, why can't the overhead compartments have 2 of them so each passenger in your row has a spot for their bag? Wouldn't this solve all of the world's problems?
Oh, dear friend sitting in the aisle seat, I know you're getting blinded by the light (Who else is singing that song now?) but you have a better chance of me passing you sunscreen than me lowering the shade for you! I chose this seat for a reason!
Speaking of ridiculous requests, can we please do away with the request from the late boarding family of 3 to sit together? It's like playing musical chairs or a game of chess! "Hey, if you move to row 7, & she moves to row 31 & if the stars are all in alignment, then we can all sit together!"
Are you really going to take off your shoes? Seriously, you are going to sit next to me in your dirty, stinky socks? This is not your living room, KEEP YOUR SHOES ON!
If my earbuds are in & my hat is as low as possible on my head, isn't it blatantly obvious I have no desire to strike up a conversation? I am sure you're nice "Mr. Middle Seat Guy", but we're not going to be besties!
I now see more animals on a flight than I do at my local Zoo? How exactly is a Pot Belly Pig a "Service Animal"?
Finally, the coup de grâce for me is the guy who sits in the 1st row of a Southwest flight for the extra leg room but then places his bag 12 rows behind him. Said guy then has the audacity to expect his fellow passengers to crowd surf his bag up to him upon touchdown on the tarmac. "Hey, you in the blue, yeah you, can you grab my black bag above you, pass it to the guy in the red, yeah him, & hey you in the red, can you grab it, pass it to the guy in the striped shirt, yeah him, & you in the striped shirt, can you pass it to the elderly lady, yeah her & I'll be good to go". Four torn rotator cuffs later, the ungrateful passenger has his bag! If you can't get grab it yourself, you must wait until you can! Can I get an Amen from the congregation?
Happy travels, fellow frequent fliers!