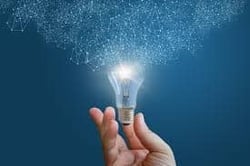 A new decade is upon us. Are you ready? Some experts predict that 2020 will be an awesome year. We'll start hearing terms like synthetic human brains, moon mining, 5G, quantum AI, psychographic targeting, and more. What does it all mean? Does it make your head spin?
While we're in the midst of the 4th Industrial revolution businesses are forced to think differently, innovate, and stretch to evolve, it can be a scary and unpredictable time. It doesn't have to be. There's a lot of information out there to help us all stay "in the know" and guide us in the technological world we live in. In a recent Forbes article, "Tech Pros Share Their Predictions for 2020's Most Impactful Trends," fourteen experts from Forbes Technology Council outline their picks for tech trends that will emerge in 2020 and believe will have a long-term effect on how we live and work.
We want to do our part to help break through the tech "noise," so we selected some tech-savvy thought leaders and pioneers who are experts when it comes to innovation and have helped organizations stay agile and relevant during turbulent times. If you're excited to bring change to your company, take a look at these disruptors and industry leaders. They know how to leverage technology and turn it into a competitive advantage and will break it all down in a way that makes sense. They live it, breathe it, and speak about it every day!
Meet our trending innovation speakers!
"The secret of change is to focus all of your energy, not on fighting the old, but building on the new." ~Socrates