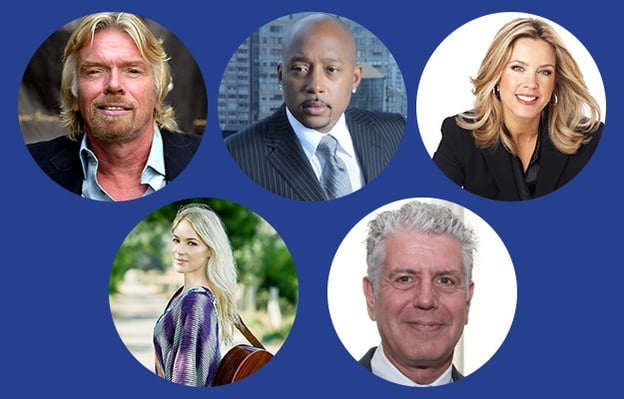 A keynote speaker can often make or break the success of your organization's conference or event. A famous name tends to draw in the crowds, while a relative unknown typically doesn't generate a lot of interest. However, the cost of hiring a name draw or celebrity speaker isn't something to sneeze at.
Take a look at the costs that come with hiring a celebrity keynote speaker, as well as the potential return on investment for higher speaking fees.
What Does a Celebrity Speaker Cost?
As the saying goes, "Every man has a price." With an unlimited budget, you can hire virtually anyone to be a keynote speaker. Speakers generally set their own prices based on what they feel their time and talent is worth. Naturally, that means the more famous or well known a speaker is, the more he or she will cost for an appearance. Here are a couple of examples:
Anthony Bourdain. Chef, author, and raconteur Anthony Bourdain is best known for traveling the globe as part of his TV show Anthony Bourdain: Parts Unknown. He has established himself as a professional gadfly, bête noir, advocate, social critic, and pork enthusiast, recognized for his caustic sense of humor worldwide. He is as unsparing of those things he hates, as he is evangelical about his passions. Anthony's fee for an engagement varies greatly depending on his schedule, but can be upwards of the $100,000.00 range.
Daymond John. From humble beginnings to a self-made multimillionaire with over $4 billion to date in global product sales and a starring role on ABC's newest business reality TV show, Shark Tank, Daymond John is the personification of the American Dream. He continues to set standards of excellence while expanding his interests in fashion, branding, marketing, consulting, entertainment, and beyond. Daymond's fee for a speaking engagement is typically in the $55,000.00 range plus any applicable travel expenses.
Why Do Celebrity Speakers Cost So Much?
Celebrity speakers bring a high level of prestige to your organization and event, and most of them are well aware of how valuable their time and talents are. As with most things in business, "You get what you pay for," and a famous name that draws media attention and sells tickets will most assuredly come with a higher cost. However, the cost of hiring a top celebrity as your event's keynote speaker can pay off in terms of return on investment (ROI).
ROI for Celebrity Speakers
If you have the money in your event budget for a top celebrity speaker, you also want to be certain you're going to get a positive ROI for his or her appearance. Take a look at some of the concrete advantages of hiring a celebrity speaker with a large speaker's fee.
A celebrity speaker brings added "buzz" to your event. People love having the chance to see someone famous up close and in-person. Hiring a celebrity will not only boost event interest, but also the name can justify charging a higher price for registration.
Celebrity speakers also lend credibility to your event. Having a famous name as your keynote speaker sends a message both that your business has the capital to hire a household name, and that the celebrity in question deemed your organization's event worth his or her time.
A celebrity speaker motivates your volunteers and staff. Bringing in a celebrity keynote speaker doesn't inspire only your attendees; it will also likely motivate your company's employees to work harder to achieve your organizational goals.