Fortune telling, palm reading, and crystal balls would be amazing if they actually worked, but innovative leaders don't rely on gimmicks to build the future of tomorrow, today.
As the business landscape continues to change at warp speed, these future trends speakers advise leaders and help organizations around the globe peer into the future to take a macro and micro look at pressing issues like the global economy, housing, inflation, investing, energy, the pandemic, digital transformation, data security, financial cycles, human capital, and so much more. They are known for their valuable insights that are critical for CEOs and entrepreneurs who want to take proactive steps to protect their organizations and ensure growth in a complicated environment.
Futurist keynote speakers have their fingers on the pulse of "what's coming." They are detailed analysts who create and use cutting-edge data, research trends, review case studies, and speak to industry leaders around the world. While they may not be able to actually "see" the future, they can prepare organizations for what's coming next.
To help you wrap up this year and prepare for 2022, we're excited to share our Top 10 Future Trends Speakers of 2021. They are an in-depth mix of bestselling authors, researchers, scientists, economists, and advisors to Fortune 500 companies. They have a clear view in a sea of chaos and can break it all down so it makes sense for any audience. These keynoters challenge all of us to take a big-world glance that impacts our local communities, businesses, and our lives as a whole.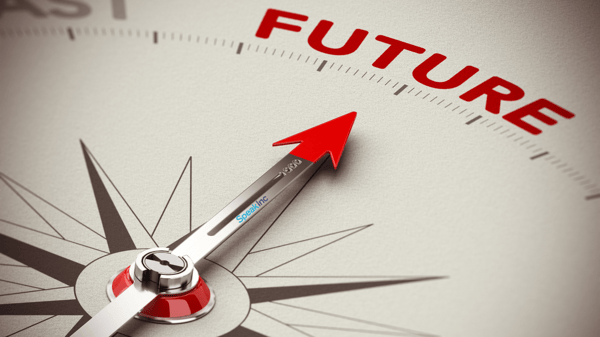 VIKRAM MANSHARAMANI first gained widespread attention with his book Boombustology: Spotting Financial Bubbles Before They Burst. Since then he's gone on to show business leaders and investors how to look at the world differently in order to manage risk and navigate radical uncertainty. Learn more...
---
MIKE WALSH is the CEO of Tomorrow, a global consultancy on designing companies for the 21st century. For the past twenty years, he has been a leading authority on disruptive innovation, digital transformation, and new ways of thinking. A global nomad from a diverse ethnic background, futurist, and author of three bestselling books, Mike advises some of the world's largest organizations on reinvention and change in this new era of machine intelligence. Learn more...
---
NANCY GIORDANO is described as endlessly optimistic, Nancy is a strategic futurist, corporate strategist, and bestselling author who has consulted on a portfolio of $60+ billion well-known brands and given more than 100+ global keynotes. With a drive to help enterprise organizations and visionary leaders transform to meet the escalating expectations ahead, she is recognized as one of the world's top female futurists. Learn more...
---
CHRIS RIDDELL In the chaotic state of our world today, there's never been a more critical time for optimism with rigor. The uncertainty, unpredictability, and sheer pace of our hyper-connected world is Chris' passion—and life's work. His obsession with making sense of the discomfort and challenges of this rapidly changing landscape has powered his thinking for over 15 years. Learn more...
---
LISA BODELL ranks among the Top 50 Speakers Worldwide and is the best-selling author of Kill the Company and Why Simple Wins. She's a global leader on simplification, productivity, and innovation, whose keynotes leave audiences inspired to change and arms them with radically simple tools to get to the work that matters. Learn more...
---
MICHIO KAKU is one of the most widely recognized figures in science in the world today. He is an internationally recognized authority in two areas. The first is Einstein's unified field theory, which Dr. Kaku is attempting to complete. The other is to predict trends affecting business, medicine, finance, and our way of life, based on the latest research in science. Learn more...
---
DANIEL KRAFT, MD is a Stanford and Harvard trained physician-scientist, inventor, entrepreneur, and innovator and is serving as the Chair of the XPRIZE Pandemic Alliance Task Force. With over 25 years of experience in clinical practice, biomedical research, and healthcare innovation, Kraft has chaired the Medicine for Singularity University since its inception in 2008 and is founder and chair of Exponential Medicine, a program that explores convergent, rapidly developing technologies and their potential in biomedicine and healthcare. Learn more...
---
ERIK QUALMAN has spoken in over 55 countries and has reached over 35 million people. He is the #1 bestselling author of five books on digital leadership and was voted the 2nd Most Likeable Author in the World behind Harry Potter's J.K. Rowling. Learn more...
---
SCOTT KLOSOSKY has lived on the leading edge of technology innovation and its impact on the business world and society in general. He is recognized globally for his unique ability to accurately predict future digital trends and provide the logic behind why they will alter the current status quo. Learn more...
---
SHAMA HYDER is a visionary strategist for the digital age, a web and TV personality, a bestselling author, and the award-winning CEO of Zen Media – a global marketing and digital PR firm. She has been named the "Zen Master of Marketing" by Entrepreneur Magazine, and the "Millennial Master of the Universe" by FastCompany.com. Shama has also been honored at both the White House and The United Nations as one of the top 100 young entrepreneurs in the country. Learn more...
---
We are available and ready to help you with all your speaker needs – we work with the world's best. Why should you work with a speakers bureau when booking a speaker? Download our graphic to learn more.