Tomorrow will mark the first one hundred days of 2021. It's true, we're already into the second quarter of the year! While the pandemic is the top contender for the world's attention, there has been a lot of other news jockeying for attention. I don't think there's been a busier time for economists, journalists, futurists, and business leaders than right now.
Obviously, to highlight EVERYTHING that's taken place since January 1st would make for one long and hefty list (not all good news either). We did our best to stay in the positive lane as we look to the future. Without further ado, here are some of the top current events of 2021 that made the cut.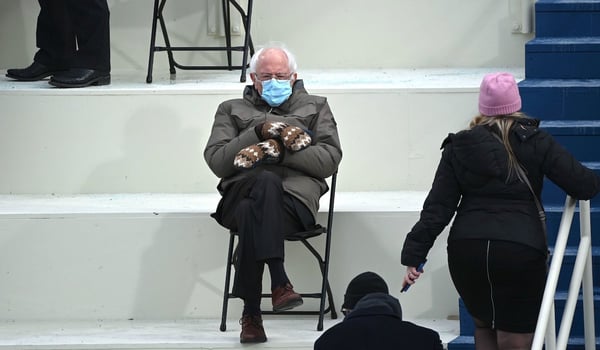 January
Joe Biden was sworn in as the 46th President of the United States.
Kamala Harris not only became the first female Vice President of the United States, but she is also the first woman of color to achieve such a high-ranking leadership position.
COVID-19 vaccines rolled out for millions of Americans.
The Bernie Sanders meme took flight on social media (if you missed it, you weren't on social media).
The Capitol of the Unites States was under siege on January 6th, stunning Americans and citizens around the globe.
Mother Nature took her fury to Alabama and sadly waged a deadly storm that shook the state, then took to the pan handle of Florida. In total, the storm left 40,000 people without power and extensive damage.
February
Punxsutawney Phil saw his shadow on Groundhog's Day (No, we did NOT want 6 more weeks of winter, Phil).
Tom Brady (The Goat) led the Tampa Buccaneers to win the Super Bowl.
COVID-19 vaccines expanded and ramped up leading to more Americans getting vaccinated (YAY).
Netflix was the top provider among streaming services (keeping all of us sane during the pandemic).
We experienced the spectacular astronomical phenomenon, The Snow Moon.
March
With more Americans vaccinated, travel began a slow uptick – a positive sign for the meetings & hospitality industry!
More in-person meetings booked.
McDonalds, Chick-fil-A, KFC, Taco Bell, Wendy's and Popeye's dominated pandemic eats!
Movie theaters reopened.
We hate to drop this one on you, but The Kardashians were canceled. Sorry folks, this is the last season!
April
Opening Day officially kicking off the baseball season.
IRS extends Tax Day to May 17th.
The United Nation declares 2021 the year of Peace and Trust (we can all use more of that right now).
It's been a very busy one hundred days, and as we continue to move through the year we will likely see more ups and downs forcing us to tap into our personal resilience and develop strategies for our "comebacks." Leaders and businesses need to be poised for maximum growth in the post-pandemic world.
While none of us can see into the future, we work with the best futurists, innovators, and thought leaders in the industry whose research, data, and experience help companies prepare for what's coming next. We can connect you with top keynote speakers to help you catapult your organization forward.
Want more good news? Good News Network does a great job compiling feel good news stories from around the world! Who doesn't want more good news?