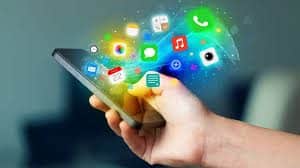 One thing for certain, we all live on technology and rely on our apps for almost everything we do. Smartphones and tablets are life-savers for our busy lives, and apps are the heart and soul of every smartphone. They keep us organized, on track with projects, get us to where we need to go on time, allow us to read books and magazines, play games, order food, and everything in between. At our fingertips apps keep us up-to-date with current events locally and globally, they're our personal assistants, they connect us, make communication quick and easy, they're the gateway to the future and there is always something new on the horizon. Bottom line, we can't live without them (unless you're on a deserted island and even then you might be wishing you had Netflix)!
As part of our Month of Love, we're wrapping up the month of February with our fourth post, Apps We Love. Our industry (like most these days) keeps us connected 24/7 and apps make our lives so much easier.
Here's a shortlist of our favorites (it was hard to narrow it down, there are so many great ones):
1. Rent the Runway So many fashion options without breaking the budget. Look great for every occasion with a click! Plus 20% off on your first order. Can't get better than that!
2. The Skimm Get all the news you need in one place. They break down all the news and deliver it in a fun and easy to read way.
3. Instagram We LOVE Instagram for work and play! Some of the most inspiring content is here.
4. Noom We all know that fad diets don't work. We love Noom because it helps build healthier habits with access to a personal health coach and a chat-based community, no one has to go it alone.
5. Strava If fitness is your thing, Strava is an excellent app to track all your workouts while connecting with other fitness enthusiasts. You can even create challenges for you and your Strava buddies. You can get a variety of analytics that help improve your workouts too.
6. Apple Books An easy-to-browse app that allows you to browse the book store, keep track of what you've read AND what you want to read. If you're into audiobooks, they have you covered. There are literally gazillions of options (well, millions anyway).
7. bSafe This personal safety app allows you to create a "social safety network" of individuals who are notified in case of an emergency or in situations where the user feels unsafe or threatened. This is a must-have for travelers or anyone who takes to the roads or trails for running, hiking, or cycling.
8. WaterMinder OK, who isn't guilty of forgetting to drink water? At our office, we're always reminding each other to grab some. Everyone is busy and just simply forgets, but we know hydration is key to health and fitness. This app tracks your water intake and even reminds you to fill up.
9. Spotify A game-changer for millions of music lovers, especially if you enjoy discovering new music. Whether traveling, working out, or at home. You can rock out anywhere, and who doesn't love that?!
10. Uber How did we survive before Uber? With a quick click you can get a ride anywhere you want to go. And, with Uber Eats now available, you can stay in and get your favorite foods delivered right to your home or "hotel sweet hotel." Thanks, Uber!
"Technology like art is a soaring exercise of the human imagination." – Daniel Bell