With corporate meetings and events playing an increasingly important role in the business landscape, meeting planners and executives face the daunting task of lining up that special keynote speaker who can deliver both energy and impact. But what's the best approach to securing the ideal talent?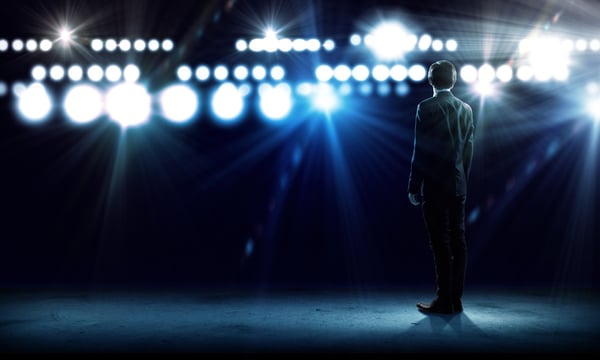 A Google search for the term "keynote speaker" yields a whopping 88 million results, making the process feel like finding an electron in an atom in a needle in a haystack. You may love your favorite blogger or podcast host, but will they really perform on your big stage? With the stakes so high, getting it right is mission critical. Which is why working with a professional speaker bureau is an absolute no-brainer.
As a speaker myself who has delivered nearly 1,000 keynotes to over one million attendees around the globe, I have an inside perspective to the process of booking a speaker. Having seen it all, there's no question to the best approach.
If you're unfamiliar, bureaus are like talent agents for speakers. They spend all day - every day - studying the field to determine which speakers will shine and which will flop. They know who's a great deal, who's a diva, and who will inspire your audience to action. Since they are completely free for meeting planners (the speakers pay the bureaus a portion of their fee), it is absolute no-brainer to partner with a bureau. Here's why:
Expert advice leads to better decisions. The pros at a bureau can cut through the hyperbole and help you find the exact right match for your event. In an objective manner, they leverage decades of experience to ensure you make the best choice.
Save tons of time during your search. The do-it-yourself approach ends up wasting countless hours, often leading to dead ends. Establishing a short list is only the beginning, when you consider the time of checking availability, securing fee requirements, and negotiating a contract. Your bureau partner does all this heavy lifting (again, free to you) so you can focus on the big stuff.
Bureaus can hold speakers accountable. If you hire a speaker directly, they realize you're unlikely to hire them again so they may cut corners. On the other hand, a speaker booked through a bureau is going to work extra hard to delight the bureau as much as they will to delight you. Since a bureau may hire the same speaker 20 times next year, they have a profoundly bigger stick to hold your speaker to the highest standards of service and excellence.
You gain a much-needed Plan B. Imagine how you'd feel if your speaker had a family emergency 18 hours before your event. Or if a massive snowstorm shut down all flights and your speaker was stuck at O'Hare. Book direct and you're in deep trouble. But a bureau will be best situated to scramble quickly and find a high quality, last minute replacement. They have deep networks of speakers they can contact in an emergency, providing you with peace of mind.
Outsource all the pesky details. Contracts, headshots, bios, invoices, presentation materials, flights, pre-event calls, ground transportation. Phew. Anyone who's ever booked a speaker will tell you how many complex details emerge. Why not let your bureau manage the minutia so you can tackle the important decisions for your upcoming event?
The cost of a bad speaker choice can damage your company's reputation and quite possibly sink your career. Having a trusted partner in your corner to help you win versus the risk of going it alone is a no cost, no-brainer proposition.
Team up with your favorite bureau expert and sleep well knowing your event is on track to become a raging success. Do it right, and you'll be the one enjoying the standing ovation.